Higher levels of a type of fungus in the gut are associated with better outcomes for patients with a type of inflammatory bowel disease called ulcerative colitis who are treated with gut microbes from healthy donors, according to a new study by Weill Cornell Medicine investigators.
The study, published April 15 in Cell Host & Microbe, suggests a way to determine which patients may be good candidates for the therapy, called fecal microbiota transplant (FMT), in which stool—and the healthy bacteria, fungi and other microbes it contains—are transferred from a donor to the patient.
Ulcerative colitis is a type of inflammatory bowel disease that causes chronic sores and inflammation in the colon and rectum. Prior research has shown that FMT can promote healing in the mucosal lining of the lower digestive tract, relieving ulcerative colitis symptoms in some people. Based on the new study, those patients who benefit from this therapy have higher levels of the fungus Candida in their gut prior to the procedure.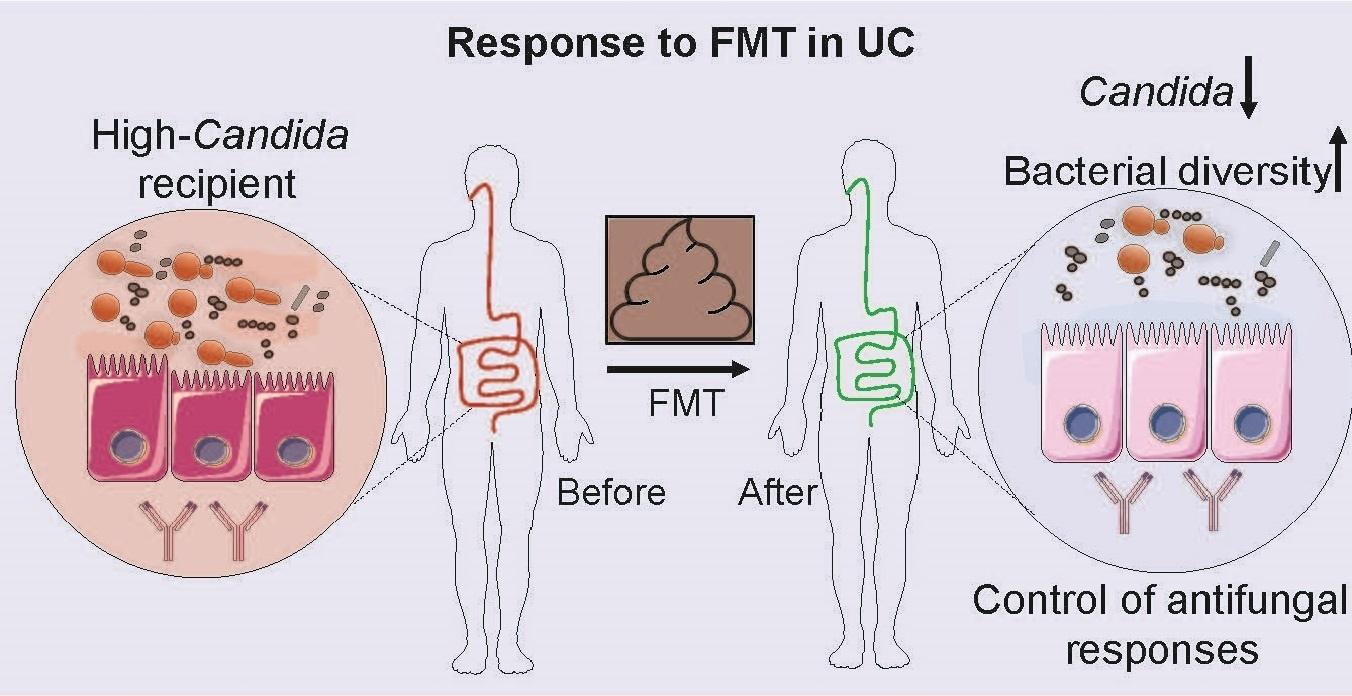 Graphic depicting association of Candida levels with response to fecal microbiota transplant in ulcerative colitis patients.
"The fecal transplant then acts to decrease the population of Candida," said senior study author Dr. Iliyan D. Iliev, assistant professor of immunology in medicine in the Division of Gastroenterology and Hepatology and co-director of the Microbiome Core Lab at the Jill Roberts Institute for Research in Inflammatory Bowel Disease at Weill Cornell Medicine. While more research is needed, the decline in Candida after FMT may help to reduce inflammation in the colon and rectum. "Altered fungus levels may also affect bacteria in the gut, altogether reducing inflammation," said Dr. Irina Leonardi, first author of the study and a postdoctoral associate in medicine at Weill Cornell Medicine.
About 750,000 people in North America have ulcerative colitis. The disease does not always respond to medication, and while surgery can relieve symptoms, it is not curative. The current research may one day help doctors determine which patients might be candidates for FMT or other microbiome-based therapies. To read more, click here.